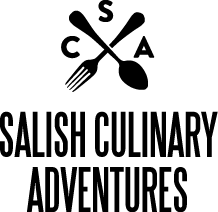 Culinary Happy Hour - Glorious Green Garlic
Salish Lodge & Spa
6501 Railroad Ave SE, Snoqualmie, WA, 98065
Thursday, March 23, 2017 5:30 pm until 6:30 pm
Organized by: Kate Williams (Contact)
Event Description
Culinary Happy Hour Series
Forget the cheap appetizers and discounted punch - Happy Hours in our Chef's Studio offer so much more. Grab a friend and join an intimate group of 12 guests participating in cooking demonstrations, sipping on a glass of Washington State wine and enjoying seasonal bites. You'll leave the class with recipes to recreate your masterpieces at home. Cheers!
Glorious Green Garlic
What is green garlic? This will be the focus of the Culinary Happy Hour inspired by the onion's versatile relative. Learn when green garlic is harvested, why it can be more beneficial than regular garlic cloves, and how to make a green garlic purée for dishes like mashed potatoes or green garlic bisque.
Click here to learn about other Culinary Adventures at Salish Lodge & Spa
Classes are each limited to 12 people. Stay for dinner and enjoy 25% off in The Attic or The Dining Room. Reservations must be prepaid and ticket purchases are final.
Who Attended
Leanne Brunette
Tammy Victor
Robert Victor