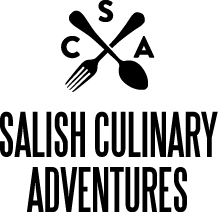 Hive to Table Reception
Salish Lodge & Spa
6501 Railroad Ave SE, Snoqualmie, WA, 98065
Friday, September 29, 2017 5:30 pm until 7:30 pm
Organized by: Salish Lodge & Spa (Contact)
Event Description
We invite you to celebrate National Honey Month with us at our Hive to Table Reception! Set atop the falls, guests will enjoy everything Salish Honey, including:
Delectable bites featuring oysters, baron of beef with Salish Honey BBQ sauce, salmon, canapés, honey desserts, and more.
Tastings of featured honey cocktails, our Pike Hive Five Hopped Honey Ale, and Salish Honey.
Honey hand massage treatments and an exclusive look at how to make The Spa's soothing honey scrub.
Mingling with Daniel Sullivan, Salish's Beekeeper.
Auctioning of wood beehives made by Daniel Sullivan with proceeds going to the Snoqualmie Valley Beekeepers Association, a non-profit dedicated to honey bee education and preservation.
Raffling of honey-themed gift basket.
And more!
Who Attended
Leanne Brunette
Maddy Metzger-Utt
Marilee Clarke
Sharon Conte
Eva Martine
Michelle Dwyer
Kelly Harlin
Tom Harlin
Stacy Miller
Robin Lee-Smith
Melissa Smith
Tyler Smith
Julie Altwies
Kristin Winslow
littlejbird
Amy Hobbs
Amy Eberhardt
Claudia Clemens
Grace LEWIS
Denette Blustein
Diane Price
Vicki Mar
Ryan Reis
Pam Trask