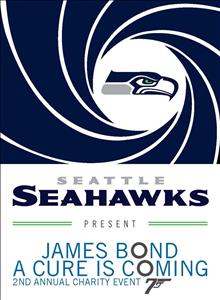 James Bond: A Cure is Coming
Makers
92 Lenora St., Seattle, WA, 98101
Saturday, June 02, 2012 7:00 pm until 11:30 pm
Organized by: The Michael-Ryan Pattison Foundation (Contact)
Event Description
All online ticket sales for this event have ended. Please contact the event organizer with information regarding ticket availability at the door.
Seattle Seahawks present the 2nd Annual James Bond—A Cure is Coming Fundraiser. This annual red carpet event attracts Seattle's most successful young entrepreneurs and professionals. Last year more than 300 of Seattle's most influential people showed up to support the cause, network and enjoy delectable cocktails. With more momentum and greater support, this year's event is well on track to eclipse the impact made in 2011.

On June 2nd 2012: Spotlight on Seattle will be streaming live from the red carpet while interviewing the VIPs. The best photographers in the city will be snapping photos at the step and repeat. Delicious appetizers and Bond inspired cocktails brought to you by some of Seattle's finest Distilleries. Jones Soda and Re:newal bottled water will be refreshing nonalcoholic choices. We'll have SWAG bags loaded with tons gift certificates and free stuff from amazing local and national brands. Coverage will go viral and resound months after.

The Michael-Ryan Pattison Foundation: Formed in 2006 as a 501(c)(3) organization, the foundation was created to raise awareness of the therapeutic needs of individuals with spinal cord injuries (SCI). Our vision includes establishing a specialized restorative therapy center in the Seattle area and to raise philanthropic support to serve long-term chronic rehabilitation for persons who have become suddenly disabled through SCI.