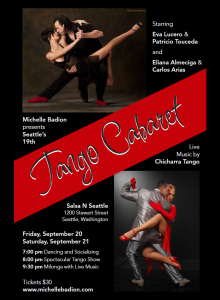 Tango Cabaret
Salsa n Seattle
1200 Stewart St, Seattle, WA
Friday, September 20, 2013 until Sunday, September 22, 2013
Organized by: Michelle Badion (Contact)
Event Description
Tango Cabaret
September 20 and 21
7:00 Dance and Socialize with no host bar and snacks
8:00 Spectacular Tango show
9:30 Milonga (tango dance) with live music
Staring
Eva Lucero & Patricio Touceda
Eliana Almeciga & Carlos Arias
Chicharra Tango
Michelle Badions's 19th Tango Cabaret returns to Seattle September 20 and 21.
Get ready for a great evening of Argentine tango dance and music with two world famous couples.
Staring
Eva Lucero & Patricio Touceda
Seattle's favorite tango performers and stars of Cirque de Soleil, and Forever Tango.
Eliana Almeciga & Carlos Arias
Colombia's most famous tango dancers. This will be their first time performing in the US.
Chicharra Tango
Seattle's newest Tango band.
Many of your favorite local professionals
Michelle Badion's cabaret choreography, from sensuous to silly, has entertained audiences since 1996. This year's cast includes Michelle Badion, Wladimir Pino, Maureen Munoz, Koa Hons, Vivian Konstantakos, George Rajeshand, among others.
Each number in the show expresses tango in a different way, from the most traditional to the most modern, exploring tango's passion, glamour, fantasy, romance, drama, and humor. This cabaret will once again mesmerize the audience with the intricacies, power, and beauty of Argentine tango.
After the show both nights the evening continues with Argentine tango social dancing. Novice dancers can participate in the beginner lesson between the show and dance.
On Friday night the audience can dance Tango in the main ballroom and Salsa in the lounge/ ballroom and on Saturday we will be playing traditional tango in the main ballroom and Alternative Tango Music in the lounge/ballroom
Who Attended
michelle badion
Morris Chantz
Marla Katz
Avital Belkin
imstl
Carol Lin
willrhenderson
Sarah Knowles
Windy Pfau
Venice Goetz
Linda Ryssdal
evan
sumiko webb
Luis.PerezB3
Stephen Brady
carmen chacon
Howard Williamson
anne.armstrong
Richard Baxter
mona owen
kurt1owen
kathy.o.branch
Rebecca Raven
Robert Fulghum