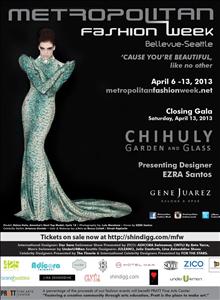 2013 Metropolitan Fashion Week Bellevue-Seattle, April 6th-13th
Chihuly Garden and Glass
305 Harrison St, Seattle, WA, 98109
Saturday, April 13, 2013 7:30 pm until 11:00 pm
Organized by: Metropolitan Fashion Week (Contact)
Event Description
April, 13th 2013, Bellevue - Seattle
CLOSING GALA
When: Saturday, April 13th, 2013
Where: Chihuly Garden and Glass 305 Harrison St, Seattle, WA 98109
Platinum Circle: doors open at 7:15pm
First Class: doors open at 7:30pm
Business Class: doors open at 7:45pm
Economy Class: doors open at 8:00pm
Glasshouse boarding time: 8:15pm
Fashion Show Stars at 8:45pm
Program
Intenational Designer: Dar Sara
Swimwear Show presented by ZICO: ADICORA Swimwear, CINTLI By Beto Yarce, Men's Swimwear by UnderU4Men
Seattle Designers: JULEANO, Julie Danforth, Lina Zeineddine Shoes
Celebrity Designers: Presented by The Finerie Christoher Collins and Jim Tanner
MFW 2013 Lifetime aAhievement Award Recipient is the founders of Gene Juarez Salons and Spas, Mr. Gene Juarez and Mr. Michael Coe
Presenting Designer: EZRA Santos
Dress Code: Dress to Impress. Suggested Looks: Lady's Long Gowns-Dress. Gentlemen: Tuxedo, Business Suit, Designer Suit. No one in jeans, tennis shoes, flip flops, shorts. baseball hats will be allowed at the show. No exceptions.
VIDEOS & SOCIAL MEDIA
Facebook: https://www.facebook.com/MetropolitanFashionWeek
Twitter: http://twitter.com/MetroFashionW
Instagram: #metropolitan_fashion_week
Website: http://www.metropolitanfashionweek.net/
Media inquiries: [email protected]
TICKETS
Tickets are on sale now in limited quantities. All online ticket sales will close on April 13, 2013 4:00pm. tickets at the door (if available) cash only.
All seating will be assigned.
Refunds and cancellations must be requested 48 hours before showtime.