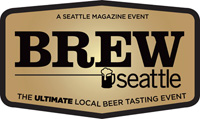 BREW Seattle
AXIS in Pioneer Square
310 1st Ave. S., Seattle, WA, 98104
Thursday, November 14, 2013 6:00 pm until 9:00 pm
Organized by: Seattle magazine (Contact)
Event Description
Tickets for 2015 are on sale now!
Join the LARGEST Seattle-Breweries-Only Tasting Event of the Year
What Your Ticket to BREW Seattle Gets You:

6 tasting tokens each good for one fill-up of your 5oz mini-mug

5 tasty plates of grub from Pinky's BBQ, Naked City Brewery, Latona Pub, and Hopvine Pub

Trophy Cupcakes paired with craft beers for dessert

Music, giveaways & vote for Brewery of the Year!


Cups will runneth over at Seattle magazine's BREW Seattle tasting event. The inaugural local-breweries-only tasting event of the year features breweries located within Seattle, tapping the local creativity popping up all over our Emerald City.
Guests will taste from over 20 breweries pouring their stellar products among music, beer culture and bites from local eateries (our mouths are watering for the pulled pork sliders & sausage paninis made to order from Pinky's BBQ). El Camion and Chopstix food trucks will also be parked in our private alley with delicious food for purchase.
At the event guests will also vote for Brewery of the Year, which will hold the title until 2014.
Be part of the inaugural BREW Seattle, honoring our local breweries and the people behind them. This event will sell out, get your tickets today!
Where
AXIS Event Venue in Pioneer Square
310 1st Ave. SSeattle, WA 98104

Tokens
Additional tasting tokens available for purchase at the event with cash or credit card (no checks accepted)

Stay Connected
#BrewSeattle


What's Pouring
Big Al
Big Al Amber
Nut Warmer PBDA
Blackberry Sour
Big Time Brewing
Icculus IPA
Old Rip Oatmeal Stout
Bluebird Brewery
Black Forest Chocolate Cherry Porter (as a beer float!)
Elliott Bay Brewery
Hellmouth IPA
Mashing Pumpkin
Red Von Boorian
Elysian Brewing
Valhalla Red IPA
Bifrost Winter Ale
Bourbon Barrel Aged Dragonstooth
Makana Imperial Porter
Emerald City Beers
Dottie Seattle Lager
Betty Black Lager
Beer Lab Pilsner
Epic Ales
Pumpkin Pie Gose
The Briney Deep
Farmhouse #2
Fremont Brewing
Bonfire
Interurban IPA
Georgetown Brewery
Short Notice India Pale Lager
Georgetown Porter
Hale's Ales Brewery
Wee Heavy Winter Ale
Barrel Aged Barleywine
O'Brien's Harvest Ale
30th Anniversary Double Pale Ale
Maritime Pacific Brewing Company
Jolly Roger Christmas Ale
Old Seattle Lager
Bourbon Oak Aged Imperial IPA
Dead Wrecking IPA
Naked City Brewery
Crossfire IPA
Duplicity Belgian Style Dubbel
ODIN Brewing
Oak-Aged Stout
Fresh Hop IPA
Peddler Brewing Company
Caramel ESB
On Your Left
Pike Brewing
Pike XXXXX Stout (featured in The 10 Best Local Beers to Drink Now)
Octopus Ink Black IPA
Populuxe Brewing
Full Spectrum IPA
Precipitation Plum Porter
Reuben's Brews
Imperial Rye IPA (featured in The 10 Best Local Beers to Drink Now)
Roggenbier
Schooner Exact
3 GRID IPA
[email protected]!ty Hill Porter
Hoppy Holidays
Seapine Brewing
Seapine IPA
PNW IPA
Stoup Brewing
Stoup ISA
Stoup NW Red
Stoup Porter
Two Beers Brewing
Evo IPA
Jive Espresso Stout (also being infused in Trophy's Cupcakes for the event!)
Seattle Cider Co. Hard Cider
Seattle Cider Co. Semi-Sweet Cider
West Seattle Brewing
3 Threads Porter
W.E.S.B.
Marzen/Oktiberfest
Trippel
Participating Food Vendors
Hopvine Pub
Latona Pub
Naked City
Pinky's BBQ
Trophy Cupcakes
Food Trucks (serving food for purchase)

Chopstix
El Camion
This event is 21+ only and security will be checking IDs onsite
Questions or concerns: [email protected]