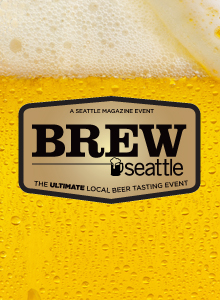 BREW Seattle
Fremont Foundry
154 N. 35th Street, Seattle, WA, 98103
Friday, October 10, 2014 6:00 pm until 9:00 pm
Organized by: Katie Williams (Contact)
Event Description
2015 Tickets are now on sale!
Join the LARGEST Seattle-Breweries-Only Tasting Event of the Year!
60 + beer from local Seattle breweries
Unlimited BBQ extravaganza included in tickets!
Cups will runneth over at Seattle magazine's 2nd Annual BREW Seattle tasting event, presented by BevMo. The city's largest local-breweries-only tasting event (with a couple cideries too!) features breweries located within Seattle, tapping the local creativity popping up all over our Emerald City.
Guests will taste from over 20 breweries pouring their stellar products and an unlimited BBQ extravaganza donated from Pinky's Kitchen. Corn hole, music, giveaways from Farmstr and more await so grab a friend and join the fun today!
At the event guests will also vote for Brewery of the Year. Big Al's Brewing currently holds the title after their victorious showing at BREW Seattle 2013.
Tickets include (6) 5oz tasting tokens, games, giveaways and all you can eat! Additional tasting tokens can be purchased onsite: 3 for $5 or 10 for $10.
THIS EVENT WILL SELL OUT - dilly daddle at your own risk!
Be part of BREW Seattle, honoring our local breweries and the people behind them.

Participating:
Big Al Brewing
Time Capsule July '14 Summer Farmhouse
Time Capsule August '14 Hopped Farmhouse
Big Time Brewing Co.
Fat Katt Kolsch
Citra S.M.A.S.H
Bluebird Brewing
Habañero Pumpkin Porter
Elliott Bay
Hellmouth IPA
Mashing Pumpkin
No Doubt Cherry Stout
Elysian Brewing
Gourdgia on My Mind
Equinockin' Boots
Dragonstooth Stout
Punkuccino
Epic Ales
Fleur de Ble (Wheat beer made with orange blossoms)
Fungal Pale Ale (IPA brewed with mushrooms)
Fremont Brewing Company
Interurban
Bonfire
Wandering
Georgetown
Eddie IPL
Georgetown Porter
Tomtober
Hale's Ales
Fresh Hop Ale
O'Brien's Harvest Ale
Hilliard's Beer
Amber Ale
Saison
12th Can
Lantern Brewing
Tripel, Abbey-style golden ale
Dubbel, Abbey-style brown ale
Blanche Cydonienne, Belgian-style wheat beer with quince
Machine House Brewery
Machine House Bitter
Machine House Mild
McMenamins Queen Anne
Bad Influence ESB
Stagger Lee Imperial IPA
Naked City
Crossfire IPA
Boo Radley Pumpkin Ale
Peddler
Pumpkin Spice
VeloHoptor Imperial IPA
Pike Place Brewing
TBD
Populuxe
Populuxe
Beer Snob
Pyramid
Pyramid Snow Cap
Pyramid IPL
Chai Wheat
Apricot Ale
Schilling Cider
Dry Hopped Cider
Oak Aged Cider
Ginger Cider
Spiced Cider
Schooner Exact
TBD
Seapine Brewing
Seapine IPA
North West Pale Ale
Seattle Cider Company
Dry
Semi Sweet
Pumpkin Spice
Three Pepper
Spinnaker Brewing
High Heel Imperial IPA
Black High Heel CDA
Don't Panic! Robust Porter
Keel Over Scotch Ale
Standard Brewing
West Coast IPA
Imperial IPA
Stoup Brewing
Harvest Ale
II IPA
Robust Porter
Two Beers Brewing Co.
Trailhead ISA
Grey Skies Dark Pale Ale
Evo IPA
Pumpkin Spice Ale
West Seattle Brewing Co.
Horse IPA
Triangle Tripel
Roderback Begian Wheat
Road Rage Red
Who Attended
Stephane Keating
Carla Cummings
Catherine Reilly
Brian Henn
Ethan Leung
Robert Stuckey
Andrea Cirbian
Kyle Morris
Jesse Free
Rob Pattermann
Angela Hulst
Tyler Schuldt
Reama Schuldt
Adam Weiler
mary kirkpatrick
Francisca Schwarz
Jeniece Toro
Jaime Sanders
Evan Hilsenberg
Kyle Richardson
Siddharth Nagendran
CALVIN SHERSTAN
Ariel Bordenave
Torrie Harano