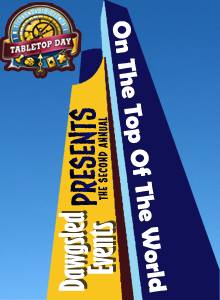 2nd Annual TableTop Day on Top of the World Benefiting Meow Cat Rescue
Columbia Tower Club
701 5th Ave 76th Floor, Seattle, WA, 98104
Saturday, April 05, 2014 11:00 am until 5:00 pm
Organized by: Dawgsled Events (Contact)
Event Description

OUR CURRENT EVENT: Second Annual Sky High Tabletop Play Benefitting Food Lifeline
---
Event is sold out, but you may still add yourself to the waitlist. Here's the thing about the waitlist, though: If I "accept" your waitlist request, it processes your credit card payment right then and there. Therefore, if you want to be considered, please add yourself to the waitlist and then email [email protected] with one of the two following messages: 1) YES, please process my request no matter what, or 2) Please call me at xxx-xxx-xxxx to confirm that I still want to go before processing my request.  If you don't email me, I'll assume you're in the #2 camp, and since I won't have your phone number, I won't process your request.
---------
Welcome to the ticket sales page for the second annual Table Top Day on Top of the World Benefiting Meow Cat Rescue! This is an age 21+ charity event celebrating Internet community Geek & Sundry's event International Table Top Day on April 5, 2014.
From 11:00 AM to 5:00 PM, we will have the run of the entire 76th floor (that's the top!) of the Columbia Tower. As this is a not-for-profit charity event, all proceeds above the cost of putting on the event will be donated to Meow Cat Rescue, a no-kill cat shelter in Kirkland, WA.
The two main banquet rooms will be set up with gaming tables, a game library and cash bars. Lunch is included with your admission and will be served at around noon. It will consist of a catered deli buffet with options available for persons with dietary restrictions. We have also commissioned The Dreaming Comics and Games to provide a game store with a large and diverse game selection that will entirely fill one of CTC's break-out rooms. We have also arranged to include 2 $10 gaming vouchers with your ticket purchase that you can use at the store, so if you discover a new game that you simply must have, you'll be able to get it for $10 off! Vouchers will also be good for a week after the event at The Dreaming's store in the U-district.