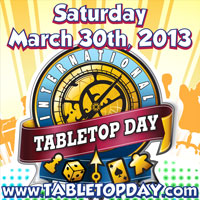 Table Top Day on Top of the World
Columbia Tower Club
701 5th Ave 76th Floor, Seattle, WA, 98104
Saturday, March 30, 2013 11:00 am until 5:00 pm
Organized by: Dawgsled Events (Contact)
Event Description

OUR CURRENT EVENT: Second Annual Sky High Tabletop Play Benefitting Food Lifeline
---
Welcome to the ticket sales page for Table Top Day on Top of the World, a 21+ event celebrating premium YouTube channel Geek & Sundry's event International Table Top Day on March 30, 2013.
From 11:00 AM to 5:00 PM, we will have the run of the entire 76th floor (that's the top!) and much of the 75th floor of the Columbia Tower. There will be games, games and more games! We'll also have live streaming of the main Table Top Day event in Los Angeles, where you can watch Felicia Day and Wil Wheaton play games.
Our event is now sold out! If you would like to add yourself to the waitlist, click here.
For more information on our event, see our Website at http://www.DawgsledEvents.com.
Play More Games!
Who Attended
Matt Winberry
Joshua Wallace
Sara Kimmel
Anna Meneses
Ian Gorrie
Melodie Madison
Nichole Radman
Milespomeroy
Christopher Lovell
Lisa Andrew
Edo Tabanar
Derek Motonaga
Shane Freund
Lisa Uhrich
Chance Daniels
larenahatley
Charles Giefer
Kathleen Moser
Elise LaFleur
Tyler Pigott
Brenton Webster
elaewin
bashfullyshameless
Michael Johnson